Are you interested in being paid what you're worth?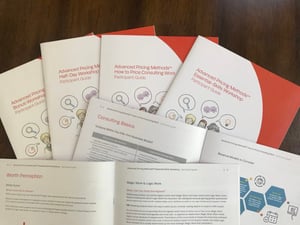 The shift to price based on worth instead of the old charge-hour model requires a whole new skill set.
Fore's Advanced Pricing Methods® Essential Skills Workshop teaches you:
How to ascertain the most valuable parts of what you do.
How to identify scope risks and head them off at the pass.
How and why to offer multiple price options instead of a single price.
How to use your options as a scope-management tool.
How to anticipate and easily capture extra revenue for the additional work that arises.
Why it's advantageous to put your customers in control of their purchases.
Are you ready to adopt APM® in your firm?
It all starts with a conversation. Simply fill in the form and Jean will contact you shortly. Thank you.